The second Australia v India test match starts on Friday and we couldn't be more excited! India lead 1-0 and the wicket at the new Perth 'Optus' stadium looks super spicy (check out the grass cover in this picture from @BCCI's twitter account).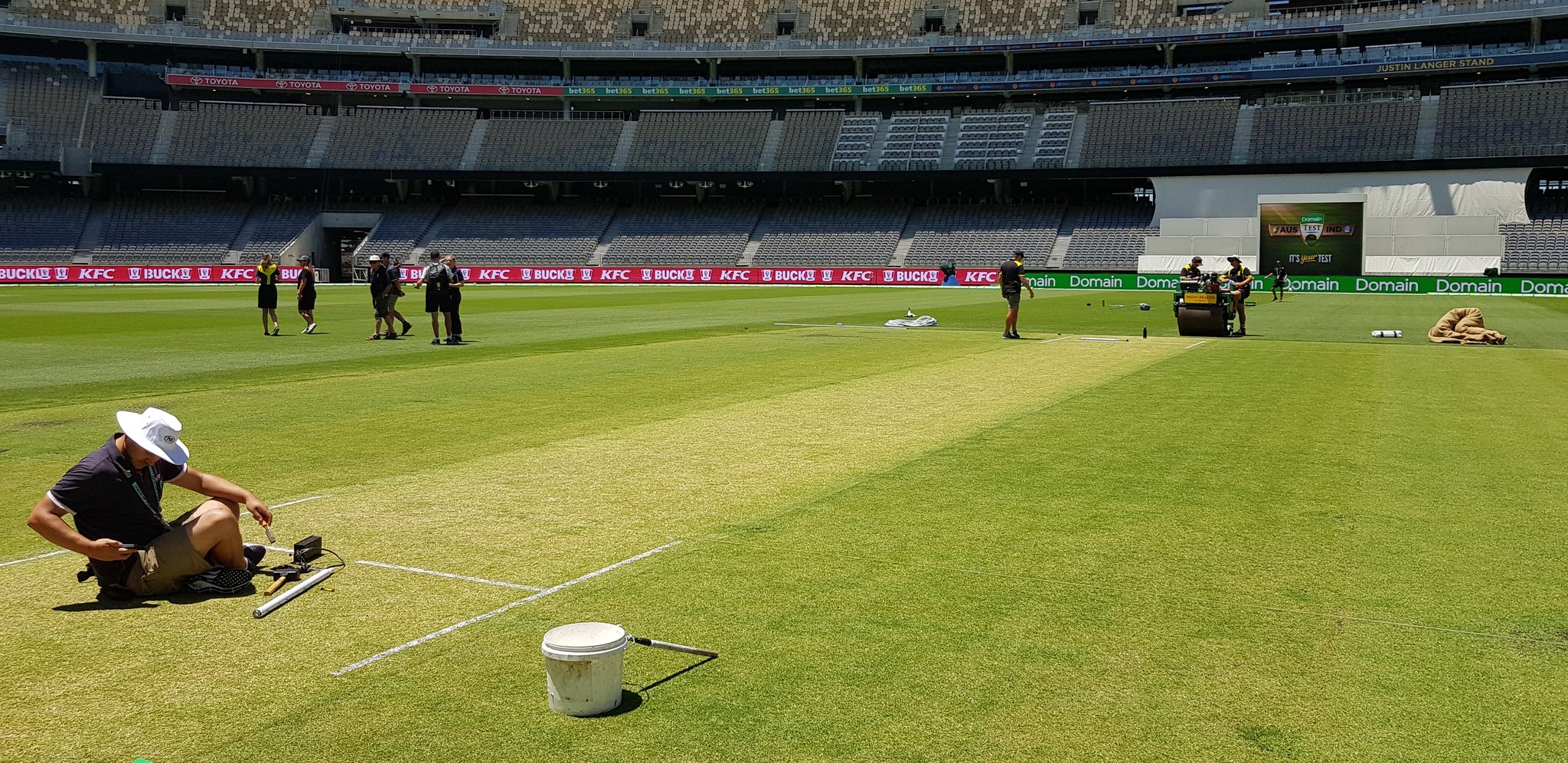 This is the first test match to be played at the new Perth Stadium instead of the old WACA ground, which was one of the quickest pitches in the world in its time. Anyone else remember this spell from Ishant Sharma to Ricky Ponting at the WACA in 2008?
Despite having only a three day break between the first and second test matches, both bowling attacks will be raring to go. Apart from Mitchell Starc's slow start at Adelaide, the focus will once again be on the batting line-ups. Australia fought hard at Adelaide and seemed to surprise their supporters with how close they ran India. India will be looking to skipper Virat Kohli to score big.
In injury news, with Rohit Sharma and Ashwin missing from the Adelaide winning XI due to injuries, there is a good chance that India will go in with four quick bowlers (Shami, Ishant, Bumrah and Bhuvaneshwar) and Hanuma Vihari replaces Rohit Sharma. If India don't play a spinner, this will be only the third time in the history of Indian test cricket that we have gone into a test without a specialist spinner. The second time was at Jo'burg earlier in 2018 under Kohli. India won that test so let's hope a similar story is repeated here!
Australia's biggest worry will be Tim Paine's bruised finger.
As you know, we've been covering Australia v India on the Edges & Sledges cricket podcast. Here's a recap of all the episodes on India's tour of Australia. Click the titles below to listen to our coverage and let us know what you think. Also, do drop by to say hello to us on Twitter – @1tip1hand.
[Edges & Sledges is available on all major platforms – iTunes , Google Play , YouTube, Anchor, Overcast, Pocket Casts, Google Podcasts, Spotify, Breaker, Castbox, Podbean, Radiopublic, Sticher and Tune in Radio.]
Ep. 34: Sandpaper & Sledging: Previewing India's tour of Australia with Menners
Released 15 November 2018. 
We started off with a preview where we were joined by special guest Andrew Menczel of the Cricket Unfiltered Podcast. In this episode, we talk about:
SandpaperGate, EliteHonesty and Australia's Cricket woes in 2018
India vs. Australia upcoming series preview (filled with sledging)!
Our favourite India-Australia cricket memories
India and Australia at the Women's World T20 – Quiz Time!
Ep. 35: Ind-Aus T20s, Pitiful Pant, Regrettable Rahul, the Krunal Conundrum and Women's World T20s!
Released 27 November 2018
After the end of an exciting T20 series, we talk about:
India vs. Australia T20 Series Wrap Up
Pitiful Pant and poor shot selection
Regrettable Rahul continues to disappoint
Delightful Dhawan unleashes some glorious cricketi
King Kohli, as always
The Krunal conundrum
Women's World T20 Wrap Up
Ep. 36: Australia v India tests, Sachin goes to a rave and the Shaw must go on.
Released 03 December 2018
In this week's episode, we cover:
The upcoming India vs. Australia Test Series
Rumours about Sachin attending a rave (and stealing someone's girl)
The Prithvi Shaw injury
Shadow bowling and shadow batting
Getting 50 supporters so Varun will start releasing videos of him imitating famous bowlers
Ep. 37: Australia v India tests: India win Adelaide thriller!
Released 10 December 2018
In the latest episode, we cover:
India defeat Australia in a thrilling first test
Pujara the saviour
Pant and Rohit fall a bit flat
Ashwin takes 6 wickets, but we still aren't happy
Bumrah, India's newest pace sensation
Rahane shows his worth
Enjoy!